Introduction
There is often a need to supply information with an item of content, which provides additional details for the learner. Typical examples are:
PDF documents. This might be a course syllabus, additional information about the organisation hosting an event, details about an event venue and/or printable maps identifying the venue's location(s) with road and rail travel directions.
Taster videos. For example, the Head of Compliance or CEO might record a 3 minute talking head video stressing the importance and significance of a new training programme. Alternatively, a video may feature an overview of a course or a curriculum.
Additional resources. Supplementary documentation including resources, workbooks and further reading materials attached, for example, to a course, curriculum or even a video. In many cases such materials would be directly referenced or included in the course content itself, however, having the ability to attach supplementary information provides you with added flexibility.
To fulfill the above scenarios, the Agylia LMS provides the ability for administrators to add attachments to learning items and for learners to view these in the Learner Portal.
Managing attachments
Administrators can add attachments to a the following content items:
Courses and files
Web links
Events
Tasks
Curricula
Viewing attachments (Learner Portal)
When an item has associated attachment(s), a learner will see the attachments on the items landing page in the Web Learner portal. To view an attachment, click the attachment file name, for example, the Coastal Change Courseware.pdf file in the example below: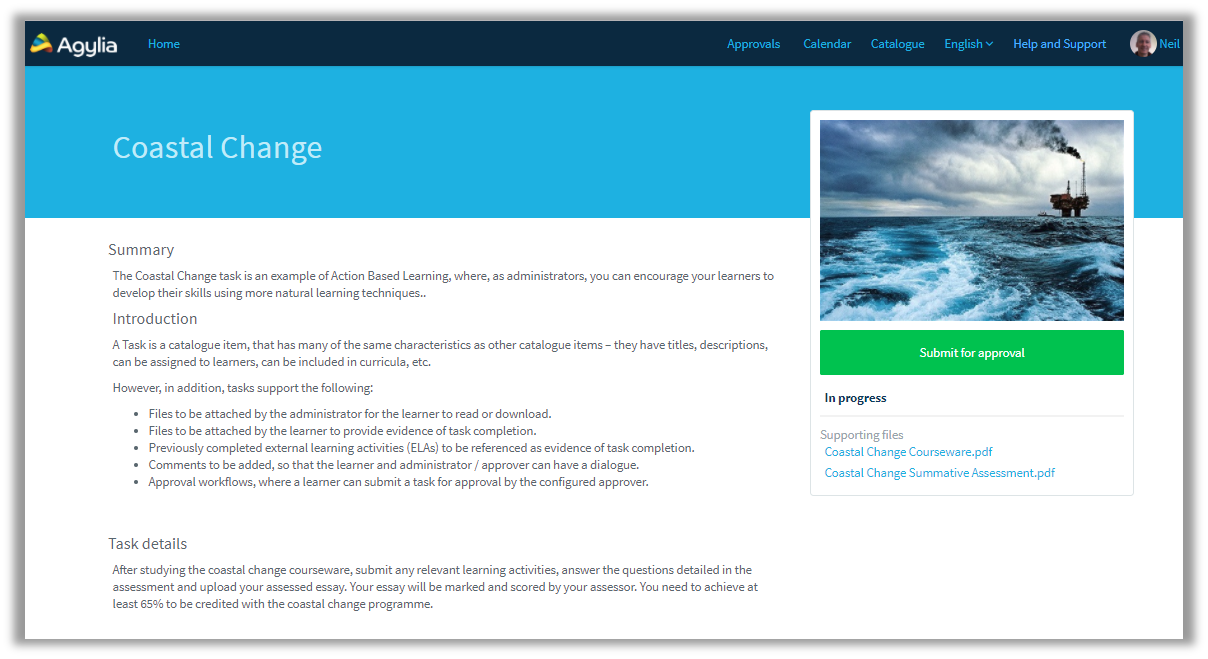 Note that the Agylia LMS does not track learners access to attachments, for example, the LMS reports will not show whether a learner has or has not accessed an attachment.
Also, if items are locked in an curriculum, learners will not be able to access any attachments on the locked items, until the item is unlocked.