It is often necessary to manually update a users status for a content item. Typical scenarios include resetting the state of a user after they have tested some content, or setting a user as complete for an item, where they perhaps have had connectivity issues, but they can prove they completed the item.
To update a user's status for a content item
Log in to your Administration portal, as a Global administrator or User administrator.
On the NAVIGATION pane, click Users.
On the Results page, click the user whose status you want to update.
---
INFO: To find the user that you require, type the name of the user, or another property, in the SEARCH box and click Search, or use one of the available filters.
---
In the SECTIONS section, click Content.

On the users page, click

the content item that you wish to update the status.
---
INFO: Use the SEARCH and FILTERS to find the specific content.
---
In the Manage <item_name> dialog box, on the Current attempt tab, update the user's STATUS, COMPLETED ON date and SCORE % properties, as required. As shown in the example, below for a Competition Law course: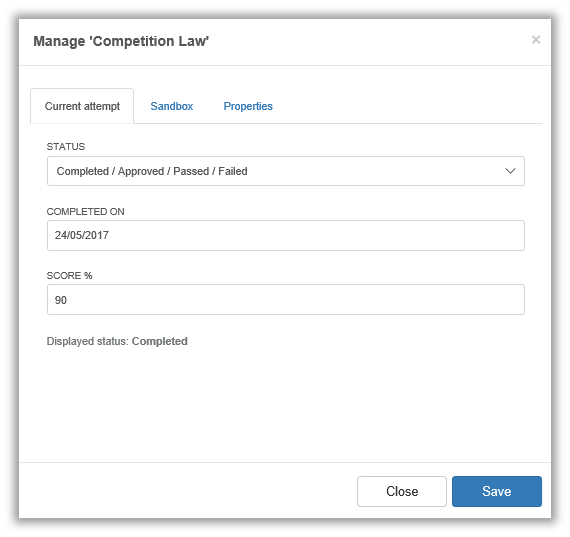 Once all configuration is complete, click Save.