The Notification page allows global administrators and users with a Notifier role, to send notifications to learners and to view email sent by the LMS.
Send notification
The notifications can be either:
Push notifications. Sent to learners on an ad-hoc basis. Each notification can be a maximum of 250 characters long. Learners must have installed an Agylia App on either an iOS or an Android device, and have configured their device to allow notifications from the Agylia App.
Email notifications. The Agylia LMS can send many different types of email to your learners and to your system administrators. A few examples include:

Emails sent on the completion of batch import and export operations performed by administrators.
Completion emails sent to learners on completion of courses.
Certificate award emails sent to learners with a PDF certificate attachment.
Reminder emails sent to learners when course completion deadlines approach.
Password reset emails used as part of the self-service password recovery mechanism.
Session enrolment confirmation emails which include .ics calendar file attachments.

All of the above emails are sent automatically by the system, based on an action by a user (either an admin or a learner) or an automatic system operation, however admins with either a Global administrator or Notifier role can also send emails on an ad-hoc basis, using the Notifications | Send notification page.

Please see the relevant How To articles on how to send email or push notifications.
NOTE: While emails are useful, the Agylia LMS does support user accounts with no email addresses. Email is not essential for system operation, but having email addresses defined ensures that the full LMS email notification system can be used.
By default, all emails sent from your Agylia LMS use the donotreply@agylialms.com From email address. If you choose to use this default From email address, you do not need to make any changes in order to accept these emails. However, you may want to use a From email address that uses your own company's email domain. If so, please see the How To: Configure your email server to accept Agylia emails article.
Email log
The Email log page shows a list of all emails sent by the LMS.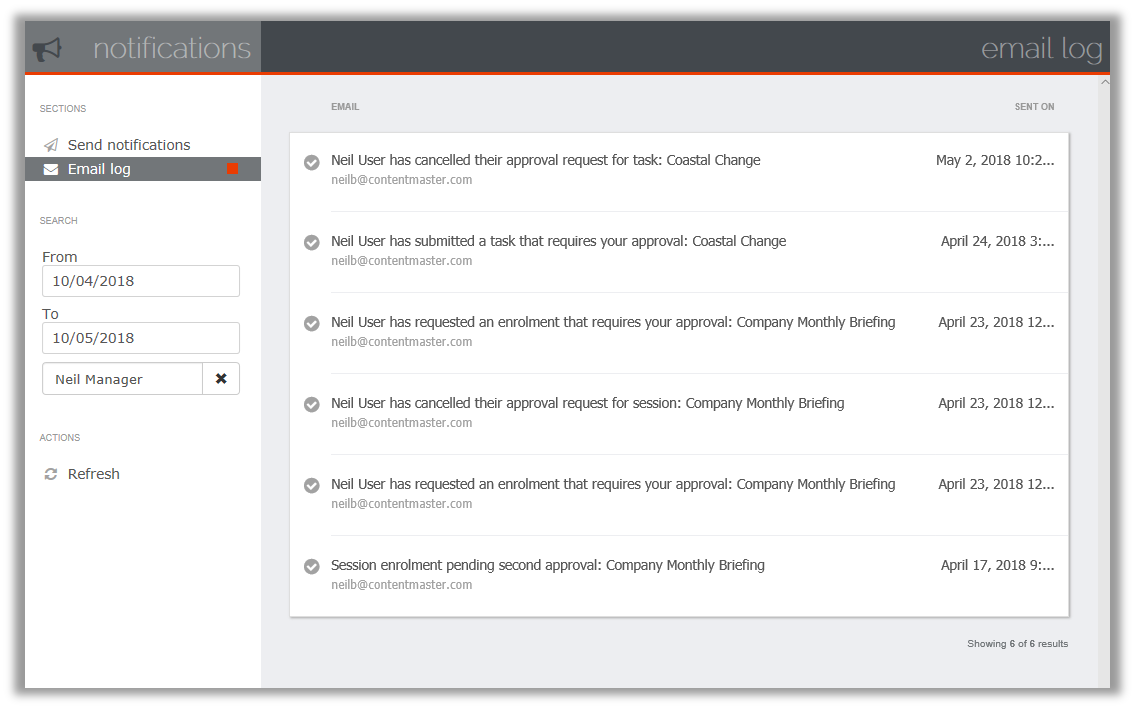 The listed emails can be filtered based on when the email was sent (using a From, To date range) and / or based on who the email was sent to. Each email can be selected to view the email details, and optionally the email can be resent.
Please refer to the relevant How To articles for further details on viewing and re-sending emails.
Related