Introduction
Agylia enables your learner community to add comments and participate in discussions centred around the content resources you publish from the Agylia catalogue. For example, learners can engage in conversation, ask or respond to questions, leave feedback and so on. Comment areas are available on the landing pages of courses, files and curricula, as shown in the following screen shot.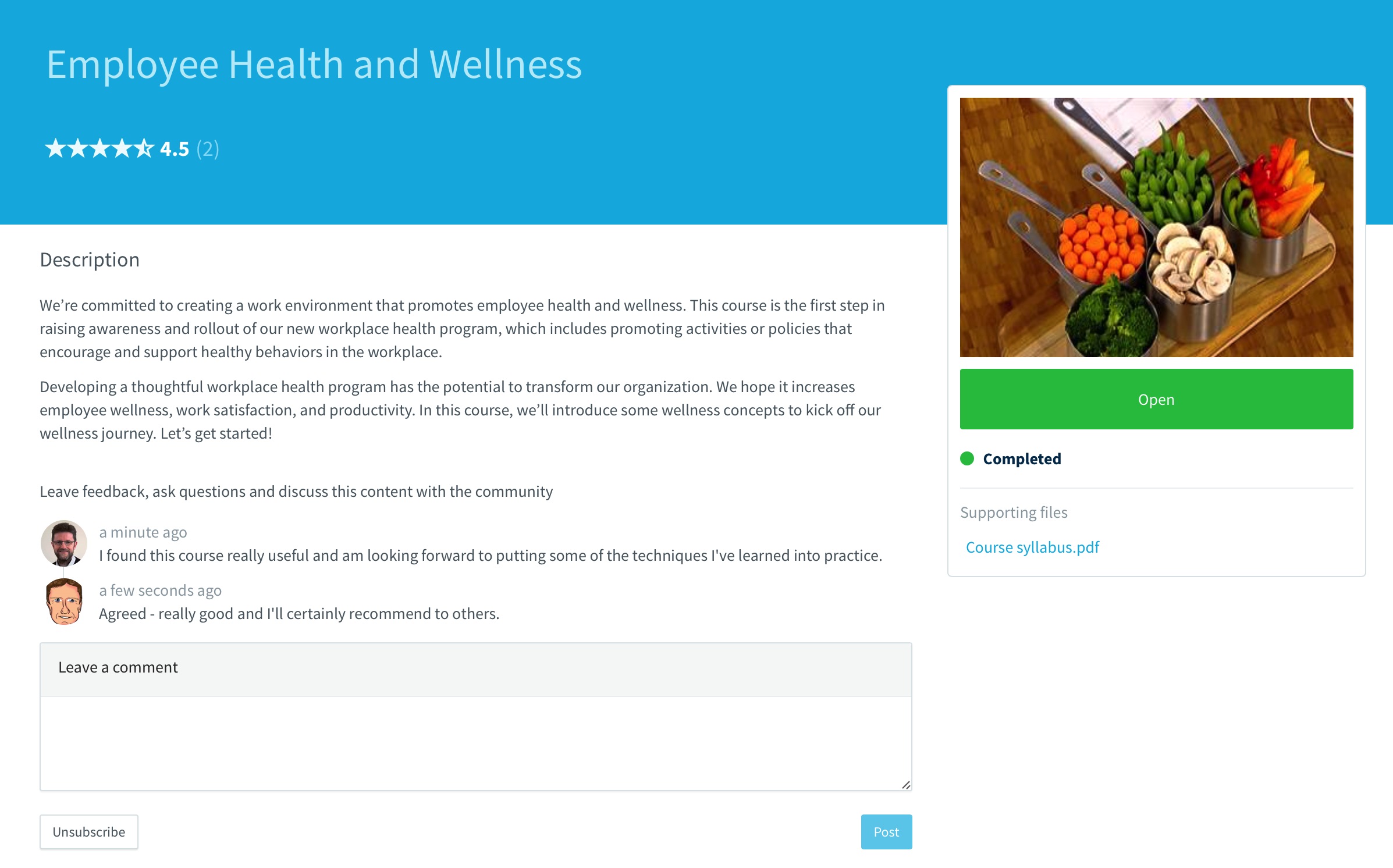 Any learner who can see the associated content (is targeted to that content) is able to view comments left by others and can post new comments of their own. 
Notifications and subscriptions
When a learner posts a comment, they are automatically subscribed to notifications which are generated when someone else contributes to the same topic and leaves their own comment. In this way, learners are made aware when the conversation continues. 
If at any point a learner no longer wishes to receive notifications, they can click the Unsubscribe button beneath the comment input box. If a learner, or a content owner for example wishes to be notified when comments are added to a particular piece of content, where they haven't themselves posted a comment, they can click the Subscribe button.
Today, learners are notified about new comments when they login to the Web learner portal. 
NOTE: Automated email and push notifications are coming soon. These will alert users whenever a new comment is added to a topic to which they are subscribed. 
The Comments menu item on the portal's header bar highlights the fact that new comments are available.  Notice the bell icon adjacent to the Comments menu in the following screen clip.

On clicking Comments, the resulting page lists the topics to which the learner is subscribed.

Clicking a topic displays the associated comments as shown below. Furthermore, learners can continue the conversation directly from within this page, rather than having to visit the content item's landing page again.

Flagging comments
Users can also flag posts them deem to be inappropriate by clicking the flag icon adjacent to the comment. Administrators and/or content owners can view flagged posts within the Comments area of the administration portal. From here, they can delete the flagged comment, or clear the flag if they wish the comment to remain visible.